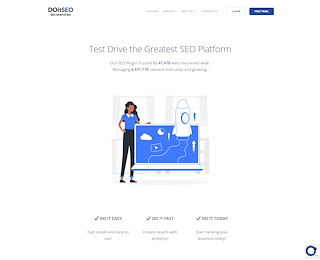 Whitelabel SEO, also known as SEO reseller services or Private Label SEO, is provided by an SEO company for other clients or individuals without taking the credit. Marketing agencies or related businesses sometimes hire another company to make search engine optimization efforts without doing the work in-house.
In other words, the whitelabel SEO company is hired to provide SEO services to your clients under your brand's name. Why is this attractive to some businesses? Because it allows for the SEO work to be done professionally without increasing overhead costs.
How do white label SEO optimization services work?
White label SEO for agencies provides search engine optimization for your clients under your name. It will be 100% transparent for your customers who are doing the backend of the job since it will most likely still be your own business who interacts with them. However, it is not uncommon for a white label SEO company to work directly with your clients.
A white label SEO program can significantly benefit your marketing agency in many ways. One could be that you want your employees to focus on other types of tasks. Therefore, hiring a whitelabel SEO company to do the SEO tasks is an attractive idea.
You can also offer a broader range of marketing services to the public without necessarily having to do the work under your roof. This way, you will be a more competitive business in the market and will be able to serve your customers better.
What are the benefits of hiring a whitelabel SEO agency?
The main benefit is that you can add SEO to your list of services without having to do the work under your roof. By doing this, you will become a more competitive agency. You avoid losing potential new business opportunities with clients looking for an "all under one roof" type of provider.
Also, you will have upselling opportunities for your current clients. In other words, you can now offer them SEO services as part of what you already provide for them. Working with a whitelabel SEO agency brings benefits to both the reseller and the business that hires them.
Another benefit for the SEO reseller agency is that they can always count on new clients in a very competitive landscape. Clients also benefit from this agreement since they won't have to stay in contact with different companies frequently if one agency can take care of all of their needs at once.
Whitelabel SEO is another great way for SEO professionals to offer more competitive prices since they do not have to spend time marketing their own products. Finally, the customers will enjoy a faster turnaround since the work will be divided into two companies and will be able to deliver in a shorter period of time.
If you would like to know more about our whitelabel SEO services, contact Do It SEO for a free demo and consultation at https://doitseo.com/contact/, or you can give us a call at (208) 639-9867.