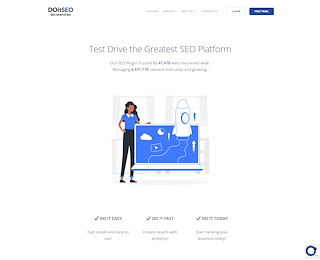 How do we get proven results with our white label SEO options?
Do It SEO provides all aspects of SEO using white label Search Engine Optimization for any size industry. If your business is looking to position itself in the Google rankings, we may be just what you are looking for.
We cover anything from audits to link building and SEO-optimized content for businesses. However, we also offer white label SEO services for resellers. We consider ourselves a midway point between an SEO tool and an SEO agency.
How do our white label marketing solutions work time after time again?
As a white label digital marketing and reseller partner, our solutions are proven to work time after time again. How have we become one of the leading companies to offer this type of service?
First of all, we work on all aspects of SEO. One of those is relevant linking. We begin by categorizing all of the websites into their most relevant niche and focusing on achieving one-way links from partnerships.
We also work on your website's architecture. The goal is to have it optimized for white label Search Engine Optimization. To make this happen, we create a content structure based on specified keywords where we have determined by previous research that your business has an opportunity to rank with.
Do It SEO works with white label reseller programs to boost every strategy we implement. Another aspect that we also focus on is content marketing. Our team will create optimized content that will increase your website's effectiveness by bringing relevant visitors and generating more marketing leads.
Since we understand that being local is crucial for your SEO, we will get your site listed on the local map section on Google search results. This will add the benefit of your listing appearing on the first page of the results right away.
Finally, we will deliver reports of your business' data and the current ranking. This way, you will know everything that is taking place and the growth that your online presence is having.
What are our white label SEO reseller services?
We have some of the best SEO results on the market because we work with partners that help us offer the best service possible. We can do this through SEO reseller services, and we have three options available:
SEO Affiliate
Affiliates do not have to have technical SEO knowledge. All you have to do is refer someone who can benefit from Do It SEO's services, and that is it!
SEO Agents
Do It SEO's agents will be trained on our product to sell it as best as possible. You find the leads and close the deal.
SEO resellers
Our SEO resellers will get an entire rebrand of our platform on one of your subdomains. There, you will be able to offer Do It SEO's services under your name. It is a great partnership where everyone wins.
Do you want more information? Contact Do It SEO for a free demo/consultation at https://doitseo.com/contact/ or (208) 639-9867.