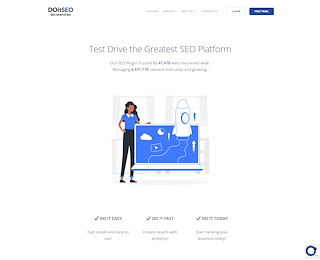 Do It SEO has recently introduced the best SEO agency platform for real-time results. With our useful plugin, over forty-seven thousand websites have achieved success. Our available SEO automation system manages over four million links daily!
The plugin we offer installs quickly and offers instantaneous analytic information. The broad compatibility of our tools functions smoothly with Java, Word Press, and HTML websites from all industries. Getting started with our software is straightforward and free of hidden obligations. Are you ready for a change?
For the first month, our standard plugin services are offered for free. Clients can pay every month without any pressure for a long term contract agreement. The upfront pricing information and an easy installation process are just a couple of reasons to check out the automated SEO platform we offer.
Analytic information is useless if you can't understand the data or make beneficial adjustments. Clients aren't required to download our plugin, but the download does unlock new features that are otherwise inaccessible. Clients not active on Word Press can still utilize the SEO tools we have to offer.
Easy to Use SEO Platform for Agencies
At Do It SEO, we offer white label opportunities for SEO agencies to put into action. Since our plugin is compatible with most CMS software platforms, it is easy to see why so many clients have put their trust in us. While our plugin is compatible, users on Word Press and other compatible platforms will unlock the most features.
Our top of the line services covers all aspects of search engine optimization. From SEO audits to industry link building, our digital tools promote effective marketing solutions to achieve long term goals.
Brands that are ready to accomplish measurable growth and profits are encouraged to check out what we have to offer at Do It SEO. Our goal is to keep overhead prices low without compromising the integrity of our tools.
Top Rated White Label and Private Label Marketing Services
Digital marketing requires industry knowledge and finesse that are individually customized for each brand. With our automated platform, brands can make small adjustments to search engine optimization campaigns, or they can scrap entire strategies from one place. Using scalable, flexible integrations, we can meet complex processes that provide robust results that cannot be denied.
In addition to priming your website for mobile devices, we can build relevant links focused on your niche. After developing a solid SEO architecture, our staff can implement content marketing services to boost your online credibility. With local citations and analytics, we can send your brand soaring to the top of its sector. If you have dreams for your brand, make sure that you dream as big as you wish.
Ready for a Free Demonstration and Consultation?
At Do It SEO, we are now scheduling free demonstrations and service consultations for new clients. Click here or give us a call at (208) 639-9867 to get started reviewing your search engine optimization options with our staff. Our world-class SEO agency platform is packed with potential for expansion and growth!