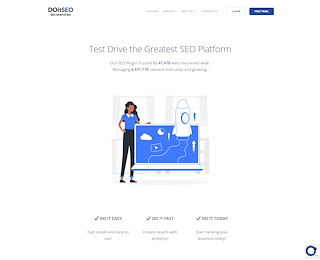 Having a great website is easy, but getting traffic may be difficult, and this is where SEO comes in as a solution. Search engine optimization drives traffic to websites. The traffic should be specific and targeted to the website. A common question in many SEO forums is, can SEO be automated? The answer; yes, it can, and automated SEO proves to yield excellent results.
Automated vs. Manual SEO
The development of software and SEO platforms has led to various improvements in the digital marketing world. The downside of all the developments is it is now increasingly difficult to decide if hiring an SEO agency or using automated SEO tools is the ideal choice. SEO applications can now perform directory submission, forum posting, keyword research, and blog commenting.
There are differences between manual and automated SEO. Manual SEO is having a team of experts who implement on and off-page strategies on the website manually. On the other hand, automated SEO involves the use of applications for search engine optimization. Some people may equate automated SEO with spam. However, this is an assumption that many business owners who understand the benefits of automated SEO can refute. Consider the benefits of automated SEO when deciding the best SEO strategy for your website.
Advantages of Automated SEO
SEO is like a giant jigsaw puzzle with pieces that are specific for every brand. Proper research needs to be done for you to identify the pieces and fit them together. The complexity and broad scope of SEO can make this a challenging task.
Thanks to technological advancements, marketers can use various automation tools to increase search results rankings. Some tools identify SEO on-page issues and offer recommendations on how to solve them. If you need a thorough investigation of your website's SEO, you can also implement audit tools. Such tools give you off-page functions such as backlink profiles.
SEO automation tools can provide you with the data you need to understand social signals, content usability, and page loading speeds. SEO Audit is a service offered by some SEO agencies free, mostly because they use automated tools for this function.
Automating influencer research is another critical advantage of SEO automation. The success of building link relies on advanced tactics and effective outreach plan. To achieve this, you need the right influencers, useful content, and users' emails. SEO automation tools can help you do the research to identify useful content online and the right influencers for your website.
Instead of sending emails that will probably end up in spam, try focusing on users who show interest in your brand. SEO automation tools can direct you to content creators and bloggers who already know your brand. The tools alert you anytime someone mentions your brand on social media, forum sites, or on their blogs.
SEO automation provides a unified dashboard to help you monitor insights, backlinks, keyword rankings, and social signs. It also ensures that you set and achieve your SEO and marketing goals. Please contact Do It SEO at (208) 639-9867 for a free demo or visit our website https://doitseo.com/contact/ for a consultation.