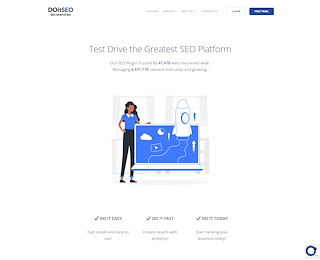 Over the past decade, marketers have shifted their focus from print and electronic media marketing to online content marketing. This change in marketing approach put a plethora of mediocre white label SEO reseller services on the map. And as you can expect, many digital marketers had a bad experience because of them.
Do It SEO's approach to optimization is different than any other reseller on the market. For us, you come first. Therefore, our business model is consumer-focused from top to bottom.
The following are some of the reasons why Do It SEO's top of the line white label SEO reseller services are unique and exceptional.
Class-Leading SEO Automation
How can a process as organic as SEO be automated?
It all starts with 4 million lines of code and ten years of industry experience. Our tools are not only optimized to get you results, but they are also strictly monitored by our team. And because of our commitment to providing you the best white label SEO software on the market, we are continually improving.
So, rest assured that with Do It SEO's automation in place, your site will rank and will continue to get better.
Powerful Link Building
Do It SEO is synonymous with powerful link building. Our plug-in was created for the sole purpose of boosting your website's link profile by generating high-profile inbound links from authority sites.
It is a known fact that even a few high-quality links can do wonders for a site's search engine ranking. And you can experience this firsthand when you sign up for our services. For instance, many of our customers saw their sites perform much better, even on a free trial that includes links for up to 5 keywords.
In short, powerful and relevant link building is what we do best.
Link Management and Live Link Data Reports
Generating quality links is just one part of the puzzle. Managing these links and giving users control over them complete the puzzle. This is where our user-dashboard and live link data reports come into the picture.
Firstly, the live link data reports that our system generates show how many links our system has generated for you and the relevancy of these links. We allow only the most relevant links to your site. You can see this by keeping an eye on the relevancy score of the links. Links with a low relevancy score are continuously replaced with more relevant ones as soon as they are available.
Secondly, at Do It SEO, we believe in giving users full control of their backlink profile. Therefore, users can control what sites link to them from their dashboard. Users can see where the links are placed and choose to block them if they find them irrelevant.
Long story short, if you often search for terms like 'SEO reseller services near me,' we believe us to be a great match. And to prove that we are the best SEO reseller company on the planet, we are giving a no-contract, no credit card required, 30-day free trial for our premium services.
So, contact Do It SEO for a free demo/consultation: https://doitseo.com/contact/ (208) 639-9867.