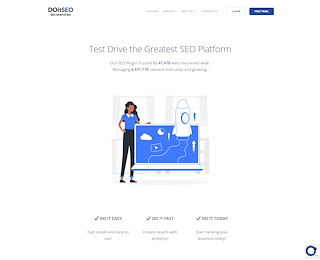 Creating a website or webpage for your business or designing a profile for your particular services that are optimized in the search engine or, in other words, fulfill the complex standard of being SEO is not as simple as you think. White label marketing companies have begun to emerge in the business sector with the sole purpose of providing SEO services along with proper business development and marketing.
Do It SEO holds the position of being the best SEO white label provider. We can make your profile or website get through the complex network of SEO by handing you the various tools and techniques required for SEO.
Our top of the line white label SEO services include the following:
We provide multi-lingual support: Being multi-lingual is the foundation of our SEO reseller agency program. Our company can deal with keywords and characters from multiple languages. We have not limited our services to any specific language. Our company's professionals will stream links or direct information using the keywords provided in your native language.
High Quality, secured SEO linking: Quality and safety are critical when linking IP addresses and content to avoid spam and malware. We closely monitor the links and members joining our site, allowing genuine websites containing unique content.
Linking power: We give you complete authority to your website and dashboard and permits you to control linking. If you do not like connecting to any site or a site that links to you, you can disable it on your own.
Natural relevant linking: We believe in natural appropriate linking techniques. Following Google, guidelines to link building and arranging the files and references to our website in a much smoother and simple way, we give your website the much-needed SEO look.
Offer API: Unlike other SEO program resellers, we also offer an API. Having API access allows you to fuse our reports and tools to your dashboard, and that too without any additional charges, making us the best white label SEO providers.
Become an SEO reseller with us: Who said you could only be a client? We give you opportunities to become a seller even without having any special SEO skills. Earn some easy cash, along with gaining experience and confidence in this field.
SEO affiliate: SEO affiliate is the most straightforward program provided by our company. Recommend our services to your fellow beings and start earning money straight away. You get 10% from the monthly earning, even if you don't have technical knowledge of SEO.
SEO agent: We allow you to be a part of our company by training and supporting you to be our agent. Meet the clients, highlight our company's positive aspect, close deals, and earn 15% from the monthly earnings. Plus, persuade others to become agents at Do It SEO and add an extra 10% to your monthly income.
SEO reseller: Being a reseller allows you to rebrand our platform to your respective profile fully, thus enabling you to market your product while we remain behind the curtains.
Do It SEO is a leading SEO white label service provider that gives you the necessary tools and techniques required to make your content stand out in the world of SEO.
For further queries, contact us (208) 639-9867 Or drop your email at Info@doitseo.com.