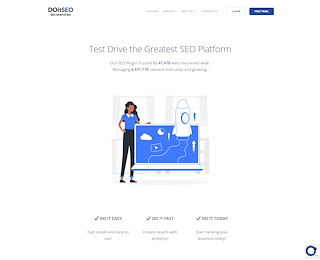 The market for SEO services has never had as many players as now. it is almost impossible to think of a business that can prosper without having a digital presence. That's why businesses of all sizes are increasingly determined to hire agencies to help them with their SEO positioning.
Even with this opportunity, many of the finest digital marketing agencies still do not offer SEO services for varied reasons. That's where the white label model of SEO services for agencies comes in.
If you are not familiar with white label SEO or private label marketing services, we will quickly explain it to you.
White label solutions refer to a type of collaboration in which one company produces goods or services, and another company sells them using its name and brand.
This type of solution is very present in the market of SEO and digital marketing services. This type of collaboration is especially beneficial for the service reseller, as they can offer greater value to their clients from their brand, achieving more market presence.
Unlike other options for contracting white label marketing services. At Do It SEO, we have three ways in which individuals and agencies can earn money by offering our services to their clients: you can be an affiliate, an agent, or a reseller.
Let's see what each one consists of:
Affiliates
The first option is to become an SEO affiliate. Of the three, it is a straightforward alternative for those who do not know SEO.
All you need to do to start making money as one of our affiliates is to refer us to someone who can use our services, and you get a commission from the deal.
Our average package sells for over $399, and for every referral that hires our services, you get a 10% commission. So you can easily make a good amount of money with this model.
Anyone can become a Do It SEO affiliate.
Agents
The next step is to become an official SEO agent for our company.
At Do It SEO, we take care of teaching you every detail about our product and how to sell it to potential prospects. This model is ideal for those who want to make more money than an affiliate but want to keep their autonomy.
As an official agent of Do It SEO, you will find and close your leads yourself, but don't worry that you will have all the necessary tools to succeed as part of our unbeaten team.
As an SEO agent, you will earn 15% of the total deals you close, plus you can recruit other agents and earn 10% on their sales.
Resellers
If you have your digital agency, this is the option that will best suit your needs.
Unlike our affiliates and agents, you can sell our services under your own brand as a reseller. This is ideal for agencies that want to incorporate SEO among their services but do not want to go through setting up a specialized internal department.
If you want to know more about how you can make money by offering the best SEO automation platform, contact Do It SEO for a free demo/consultation: https://doitseo.com/contact/ (208) 639-9867