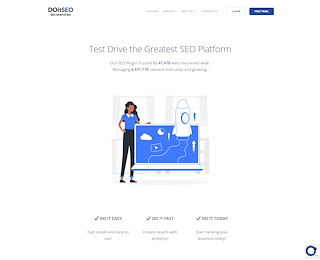 If you run a digital marketing agency, there's a high chance you're already swamped with more tasks than you can handle. As a result, you're facing all sorts of pressure from all sides while you strive to keep your agency above water. Like many other agencies, SEO is likely to be one of the most demanding and time-consuming tasks on your plate. However, it doesn't have to be so. White label SEO outsourcing offers managers the opportunity to focus on their core competencies while investing in reliable tools or people to handle their search engine optimization needs.
What are the benefits of our white label marketing solutions?
Patronizing our white label SEO services for resellers guarantee numerous benefits. Some of them include:
Focus on your strengths
Using Do It SEO takes one of the most time-consuming tasks off your hands, allowing you to concentrate on the things you're very good at. Naturally, SEO is complicated and can be challenging to learn. The ever-changing rules also mandate that professionals in the space have to continue learning and investing in numerous resources and technologies along the line. Our white label SEO services for resellers give you all the tools you need to handle search engine optimization while investing little time or resources.
Attain economies of scale
As your company becomes more prominent, you are likely to have more websites to optimize. Consequently, you'll need more people to work in your SEO department. If you choose to hire more hands, you may lose the revenue increase that should come with scaling. However, leveraging Do It SEO's white label SEO outsourcing allows you to work with a company that has already devised a means of offering large-scale SEO services while expending minimal resources.
Save on buying different SEO tools
Usually, handling SEO in-house means you have to invest in a diverse range of tools that will complement your team's knowledge and efforts. With Do It SEO, you have a comprehensive tool covering all aspects of search engine optimization- from keyword research to link building and analytics.
Boost brand visibility
Also, businesses that provide multiple products or services from third-parties can boost their brand name by paying for white labeling solutions. Doing this offers a great way to increase the public awareness about your business or brand.
Provide SEO solutions to all businesses
Another crucial advantage of working with white label reseller programs is the capability to work on optimizing websites across different niches. Usually, SEO specialists have preferred niches, and they may not be versatile enough to adapt their strategies to meet the demands of certain industries. With a tool like Do It SEO, you can be confident enough to work on websites across different niches because the solutions are tailor-made to fit diverse industries.
Have you been thinking about becoming a white label digital marketing and reseller partner? Do It SEO has all you could ever want in a DIY SEO tool and much more. Call us at (208) 639-9867 for a free consultation. Our team will be available to discuss with you.