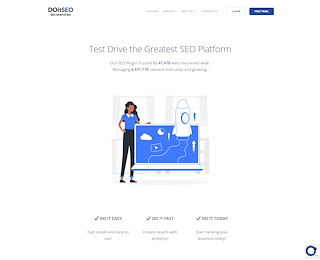 Professionals in the online marketing space often get requests for local search engine optimization from their clients. Unfortunately, not all digital marketers know their way around SEO. If you've been in these shoes, you probably would have referred the client or hired an in-house SEO agency to take care of the job. But did you know there's a more profitable option you could have taken?
Do It SEO affords marketers the opportunity to white label local SEO services by serving as a complete DIY solution to search engine optimization. The plugin is already trusted by more than 47,400 websites worldwide, and it manages over 4 million relevant links daily. Rather than lose your client, outsource SEO, or spend more to hire an in-house specialist, you can effectively meet your clients' needs while focusing on your core competencies.
What do you get from working with our white label local marketing services?
White label keyword strategy
If you know anything about SEO, you'd agree that researching and finding the right keywords is the foundation of optimizing websites for search engines. Our white label SEO services feature intuitive keyword research that identifies relevant keywords in your niche. The keywords our tool will suggest will match your competitors' in terms of volume and relevance and guarantee a stream of leads.
Top-notch technical SEO strategy
Do It SEO ranks pages using more than one hundred well known and less heralded search engine optimization factors. The diverse and all-encompassing nature of our technical SEO strategy gives you a clear edge over the competition, allowing you to outpace and outrank just about everyone else with similar domain authority in your niche.
Geo-optimization
As you will realize, white label SEO for agencies often involves some form of local optimization. Local optimization is slightly different from general SEO because it focuses on searches conducted in a specific geographical area. From research and experience, geo-optimization is the best way to attract customers looking to make an immediate purchase. Do It SEO incorporates local optimization as part of its SEO strategy, and users enjoy the results almost instantly.
Link building
After keyword research, link building is arguably the next most crucial part of SEO. Our advanced DIY white label local SEO tools use a combination of people and technology to help your website establish a relationship with the authorities in your niche. We can help white label SEO marketers acquire unlimited high-ranking links through perfectly legal means and help you shoot the rankings of domains on the website you're working on.
Are you interested in white label local marketing services but are not quite sure of the best tool to use? We can assure you that Do It SEO makes it easier to choose. Our advanced tool has everything you could ever want when delivering white label SEO for agencies, and we have no doubt it'll serve all your needs. Call us at (208) 639-9867 for a free consultation or visit our website for a demo.