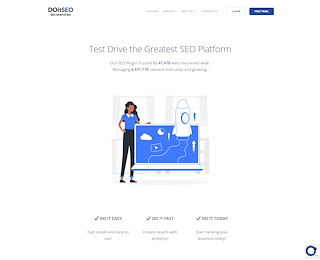 Every website that thrives today has been optimized to attract the interest of the major search engines. Algorithms and keyword saturation can be tricky to the uninitiated. DOitSEO offers a range of remarkable SEO tools that make search engine optimization simpler than it ever was before. Call 760-749-9197 to begin your free trial today!

Without decent SEO, your website is not going to be found. Most people find websites by typing a word or phrase into a search engine and then clicking a mouse or hitting the Enter button. If your website has been optimized with DOitSEO tools, it will take just a fraction of a second for the engines to locate and display your website information. If you use the SEO tools offered by DOitSEO, your website will rank higher for your chosen keywords or phrases. That's the entire goal of search engine optimization. If you're not sure how to choose great keywords or write long-tail keyword phrases, we would be delighted to assist. If you would like to talk to someone about choosing keywords right now, go to our home page and click the Live Chat link at the lower left corner of your screen. If you'd rather, you may call DOitSEO at 760-749-9197.

We don't know of any other SEO company that will give you free SEO tools. When you use our SEO tools with a free five keyword account, you benefit from all the fabulous optimization features enjoyed by our paying clients. We will provide clearly understandable instructions that will enable you to optimize your pages and monitor your progress as your website rankings improve. Most of our clients see significant rankings improvement within a few weeks. With DOitSEO tools, your website will rank better and better. This progress is achieved organically and automatically with the DOitSEO SEO tools. Call 760-749-9197 to begin your free trial today!