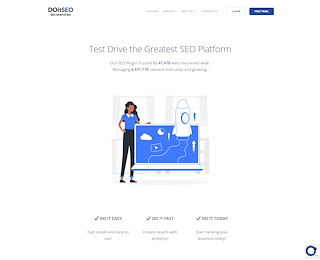 At DOitSEO, we offer a range of great SEO programs for every budget. Sign up for less than five dollars a month, and have all the keywords you want for only a buck apiece. We also offer a splendid selection of useful addons that will totally simplify your SEO situation. Register for one of our SEO programs today.

Hiring a human optimization expert will raise your rankings, sure, but it can also empty your wallet. If you don't have an unlimited budget, a human SEO professional may cost more money than you want to spend right now. Still, you absolutely must optimize your website, if you intend to generate any business through it. Good thing you found DOitSEO. We are the optimization industry leader, and we offer SEO programs that nobody else has. We are part of Cali Style Technologies -- the developer of our remarkable and proprietary SEO programs. Cali Style Technologies and DOitSEO are revolutionizing the way the world does search engine optimization.

Download one of our elegant and discreet SEO programs right now. Allow it to install and tell it what your keywords are. Don't have a good list of keywords yet? There are a couple of keyword mining tools available online. If you'd like to have us come up with your keywords, we will do a fine job of it. There are SE algorithms to consider when devising a keyword or longtail keyphrase list. We can input info about your website to one of our SEO programs and arrive at a fabulous list of keywords. Once DOitSEO knows what it has to work with, it does wonderful things behind the scenes of your website. You wouldn't even know it's there, except for the way your rankings go up and up and up. Got questions? Give us a call at 760-749-9197 and ask us anything about our SEO programs.
Seo Programs