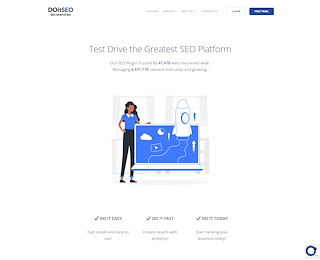 You might already know that hiring an SEO expert and retaining them on in-house staff can be a costly endeavor. You don't really need someone to write and code SEO every day. Choose DOitSEO as your SEO outsourcing specialist. We will manage every aspect of your search engine optimization, and we'll do it for a fair price.

Are you the owner of a small business? How small? Does your company employ less than ten people? Is your business owned and operated by two best friends? Are you the sole proprietor, working from your parents' basement? That's alright. Some very successful companies start at humble beginnings. Since the advent of the world wide web, even a one-person operation can compete with the big dogs, if they have the right sort of internet presence. Any business that is going to thrive in the 21st century absolutely must have a well optimized website. If you're just starting out, you will probably not be able to easily afford to hire a competent in house SEO writer and coder. Still, your site must be optimized. Good thing you found DOitSEO. We are here to be your SEO outsourcing provider.

SEO outsourcing is cost effective and gives a healthy return on investment. That is, it does when you go with DOitSEO as your optimization experts. When we do your SEO, every aspect of optimization is done by our elegant little plugin. It's not like any other SEO outsourcing readily available today. If you'd like to try a free five-keyword account, download and install our plugin. It downloads fast, it's virus free and it will automatically optimize your site for your five selected keywords. If you like it, you can upgrade your account for more keywords. You are welcomed to use your free DOitSEO software for as long as you like. Call 760-749-9197 to begin your free trial today!
Seo Outsourcing