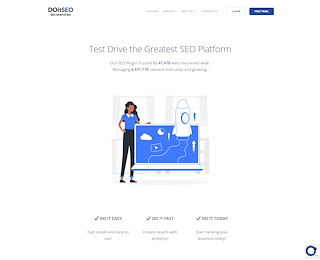 You may have heard about white hat and black hat optimization, but didn't know what the terms actually mean. Black hat SEO techniques are considered cyber spam by the search engines. They will eventually ignore it. Organic search engine optimization by DOitSEO is completely white hat and ethical. Call 760-749-9197.

As soon as search engines became available for public use, unscrupulous scammers figured out how to rig the system, so to speak. Dodgy optimizers were able to pepper the metatags of websites with words and phrases that really had zero to do with the actual content of the site. While this black hat technique was able to lure visitors to their site, it provided those visitors with no useful information or anything else they had searched for. Think of old cowboy movies, where the bad guy wore a black hat and the good guy wore a white hat. The major search engines are now onto black hat optimization techniques like the aforementioned keyword stuffing. When Google or Yahoo catch a site that is keyword stuffed, it tags it as spam and refuses to rank that site in their search results. In essence, black hat SEO will eventually get your website banned by the search engines. If you want your site to reach high SE rankings in an ethical manner that will not get you banned by Google, you require organic search engine optimization. And that's exactly what we provide here at DOitSEO.

Organic search engine optimization with DOitSEO will improve your search engines rankings in an honest and ethical fashion. With our kind of organic search engine optimization, your website will be very attractive to Google, Yahoo and Bing. The other search engines will see your site, too, but we mention these three because they are the big dogs in the world of search engines.
Organic Search Engine Optimization