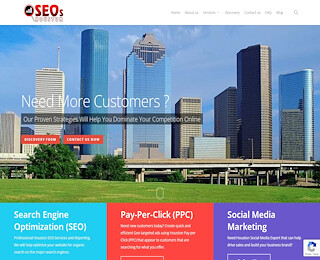 Every business needs more customers. Smart business owners spend their company's marketing dollars on practical ways to get noticed online. SEOsHouston can help you better understand where your marketing campaign is missing the mark- then fill those gaps through providing proven strategies to help you dominate in the search engines.
What We Do
Our agency offers a suite of services designed to improve visibility on the Web:
Search Engine Optimization (SEO)
Pay Per Click (PPC)
Social Media Marketing
Reputation Marketing
Houston Video Marketing ( Video SEO)
Responsive Mobile Design
We've earned a place among top Houston SEO companies through hard work and dedication to our clients. If you're a small business owner with a local presence and sell products or services on the Web, our marketing services can help you increase your monthly revenue. We'll do all the work- our team of experts will assess your marketing needs, provide you with our findings, and let you know how we can improve your visibility online.
Better SEO Means More Traffic
Our SEO practices drive more traffic to websites- potential customers and clients who are looking to do business with our clients. Creating relevant, exciting content and optimizing website performance helps visitors find what they're looking for quickly and efficiently, so you'll experience fewer click-outs and more sales.
On page and off page SEO techniques help small businesses portray a more substantial presence. Authority websites that are relevant to your business are linked to your site for optimal results.
Small Budgets Get Big Results
If you're on a tight marketing budget, we're one of the best Houston SEO companies to consult with. Our PPC experts use analysis, strategy, implementation, and testing to find the right keywords for your PPC campaign. We won't waste a single dollar of your PPC budget.
Once we have implemented your website's PPC services, we'll deliver ongoing reports that will allow you to track the increase in results. We're serious about helping you reach your goals.
Why Social Media Marketing?
SMM allows small business owners to reach deep into their community and connect with potential customers who would otherwise never know they existed. Best of all, it's one of the most affordable ways to market your business.
Our business brand marketing pros understand networking better than most other Houston SEO companies and will work tirelessly to develop your company's brand on social platforms you're probably already using. Give us a call to discuss your goals with our team- or to ask a few questions. We're here to help.
We Repair Damage That's Already Been Done
If your company's reputation has taken a hit from negative feedback or through working with a less-than-reputable marketing firm, we can mitigate the actual damage, repair the damage, and start rebuilding your online reputation without it costing you a fortune.
Our Reputation Marketing strategy is a multi-faceted solution that will show your existing and potential customers what you're made of. Don't let a negative history keep you from moving forward with fresh sales and business. Contact SEOsHouston to find out what we can do to impact your monthly revenue positively.